Please also ensure all uniform is clearly labelled.
We believe that a school uniform encourages a sense of belonging and would ask you to support our aim by ensuring that all children comply with the uniform. We have rewritten our Uniform Policy to comply with the new DfE statutory guidance on uniform affordability. 
School Uniform
Standard Uniform
Loose fitting grey trousers or shorts / culottes or Grey or navy skirts/pinafore dresses (just above the knee/loose fitting) (required) (non branded acceptable)
Navy check summer dress (optional) (usually worn in the Summer and September) (non branded acceptable)
White polo shirt (logo optional) (required) (non branded acceptable)
School logoed sweat shirt or cardigan (required) (branded)
Sensible black shoes (or ankle boots as long as they are plain with no detail e.g. no colourful stitching / laces). Trainers are permitted so long as they are all black with no visible logo. Flat / ballet-style shoes are discouraged. Closed toe sandals are acceptable in the summer. (required) 
Black, white, navy or grey socks. Trainer socks are not acceptable. (required)
PE Kit
School PE shirt (light blue). Logoed shirts are available but not compulsory  (required) (non branded acceptable)
School PE shorts (navy blue). Logoed shirts are available but not compulsory (required)  (non branded acceptable) - Plain navy tracksuit bottoms may be worn in cold weather 
Plain trainers with flexible soles. (required) 
Accessories
Blue book bag (KS1).  (required) (branded)
Suitably sized ruck sack or similar for KS2 children  (required)
No smart watches or fit bits (that communicate / take photos / email) please
Please note that jewellery, with the exception of plain stud earrings or that worn for cultural or religious purposes, is not permitted*. Unusual hair styles such as gelled hair, shaved patterns or dyed hair is not permitted. Temporary tattoos, make up and nail varnish is not allowed.
*children with such jewellery will be asked to make it 'safe' for themselves and their peers when undertaking certain activities e.g. PE.
Our sweatshirts, polo shirts, PE kit and book bags, with our personalised school logo, should be purchased through our local supplier, Tor Printing: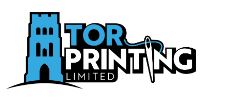 Tor Printing West Pennard Uniform Page
We have a stock of navy school backpacks which have the school logo printed on them – these are not compulsory although good value for money as they generally last for their lifetime at our school! These are available via the School Office.
The FWPS also run a clothing thrift shop, good quality second hand uniform, at various events during the year where parents may purchase second hand items for low prices.